Early life
Born on May 8, 1926, in Isleworth, Middlesex, Sir David Frederick Attenborough has always had a deep connection to academia. His father worked as the principal of the University of Leicester, nurturing his early interest in the natural world. From a young age, Attenborough's passion for collecting fossils, stones, and other natural specimens has fueled his lifelong fascination with the world around him.
David Attenborough received his education at Wyggeston Grammar School for Boys in Leicester. He then pursued further studies at the University of Cambridge, where he focused on geology and zoology and earned a degree in natural sciences in 1945. During his time at university, he also served in the Royal Navy for two years. After completing his service, he married Jane Elizabeth Ebsworth Oriel and the couple had two children, Robert and Susan. Unfortunately, Jane passed away in 1997. Both of their children followed in their parents' academic footsteps, with Robert becoming a senior bioanthropology lecturer at the Australian National University and Susan becoming a primary school headmistress.
Beginning of his career at the BBC
David Attenborough's journey from the Royal Navy to become a renowned naturalist and documentary producer with the BBC began with his stint as a children's science textbook editor. However, he soon realized that this career path did not bring him the fulfilment he sought. Determined to pursue his passion, he applied for a role as a radio talk producer at the BBC but faced initial rejection. It was only when Mary Adams came across his impressive CV that he was offered a three-month training course that would set him on the path to success.
In 1952, he joined the BBC full-time as a producer for the Talks department, responsible for non-fiction broadcasts. He began working on various projects, including the quiz show "Animal, Vegetable, Mineral?" and "Song Hunter." His passion for natural history led him to create and present a three-part series called "Animal Patterns," exploring the fascinating world of zoo animals, their use of camouflage, aposematism, and courtship displays. With this new opportunity, he got to meet Jack Lester, with whom he decided to start a programme about animal-collecting expeditions called "Zoo Quest", which he had to become a presenter of.
In 1957, the BBC Natural History Unit was formally established in Bristol. Attenborough was asked to join it, but declined, not wanting to move so away from London where he and his young family were settled. Instead, he formed his own department, called the Travel and Exploration Unit which allowed him to continue to present "Zoo Quest", as well as produce other documentaries, such as the "Travellers' Tales" and "Adventure" series. In the early 1960s, Sir David Attenborough resigned from the permanent staff of the BBC to study for a postgraduate degree in social anthropology at the London School of Economics, interweaving his study with further filming. However, he accepted an invitation to return to the BBC as controller of BBC Two before he could finish the degree.
Life on Earth
Renowned Cambridge University Fellow David Attenborough set a new standard for wildlife films with his groundbreaking series, "Life on Earth", in 1979. This influential project inspired countless future documentary filmmakers and showcased Attenborough's unwavering respect and dedication to his subjects. By staying up-to-date and diligent with the latest discoveries in the field of natural sciences, Attenborough and his production team secured the trust of scientists, who willingly allowed their subjects to be featured in his programmes.
The success of "Life on Earth" can be attributed to various factors, including the brave use of innovative film-making techniques. In order to capture the shots desired by Attenborough, new techniques were utilised, with a particular emphasis on showcasing previously unseen and unfilmed events and animals. On top of that, thanks to international air travel, the series was able to take viewers to multiple locations around the world in each episode, sometimes even transitioning between continents in a single sequence. Despite being the on-screen presenter, Attenborough limited his time on camera in order to give more focus to the subjects being showcased. Through this approach and endless dedication, Sir David Attenborough managed to become the face of nature broadcasting in the UK, educating people on some of the most influential TV channels in the country.
Blue Planet
"The Blue Planet" is a nature documentary series with a strong focus on the marine life on Earth and the natural history of the world's oceans. The series was created and produced by the BBC, premiering in the United Kingdom, in 2001. Although in the beginning it was planned to use an on-screen presenter, this couldn't be done due to difficulties speaking to a camera while equipped with various diving apparatus. Therefore the BBC Natural History Unit decided to ask Britain's face of nature documentaries – Sir David Attenborough, to narrate the series.
This series has been awarded a number of various global filmmaking awards. Such success made it a clear decision for the BBC to release a sequel series called "Blue Planet II", which was aired on BBC One in 2017. On top of that, just a year later, the renowned Cambridge Fellow has been recognised by marine life scientists for his contribution to promoting better awareness and understanding of the oceanic environment among the wider public.
Planet Earth
Planet Earth is a British television series produced by the BBC Natural History Unit in 2006. It took 5 years to create, becoming the most expensive nature documentary series ever commissioned by the BBC. It was also innovative for its time, as the whole documentary was filmed in high definition, creating an incredible feeling of immersion for the viewers and receiving multiple globally recognised awards, such as Emmy and Peabody awards.
Over the years becoming the face of Natural History and nature documentaries, David Attenborough agreed to narrate the exceptional documentary. This further cemented his relationship with his line of work and made him even more well-known even among global audiences, as just within a year after being released, the series had been shown in 130 countries.
Ten years later, a six-part sequel – "Planet Earth II", had been released, with the BBC continuing their filmmaking innovation lead and making this series the first ever produced in ultra-high-definition, also known as 4K. David Attenborough happily returned as the narrator and presenter to further spread awareness and educate global audiences about the beauty of planet Earth.
Homage to the famous naturalist at The Fellows House
Sir David Frederick Attenborough is one of the most renowned Cambridge University Fellows, who throughout his dedication to nature conservation and educational television series on the natural world has spread awareness and inspired many generations of aspiring documentary filmmakers. At The Fellows House, we offer our guests luxurious and comfortable stays at the spacious Attenborough Apartment. Our deluxe, apartment-style accommodation pays tribute to the legendary British naturalist while providing all the comforts of your home. The deluxe apartment features a spacious living and sleeping area, adorned with meaningful art and high-quality furnishings. As with all our apartments, The Attenborough includes a well-equipped kitchen, providing guests with the independence to cook their own meals. Other key features include a spacious bathroom, in-room tech, and sleek modern furnishings that never sacrifice a crucial feeling of cosiness.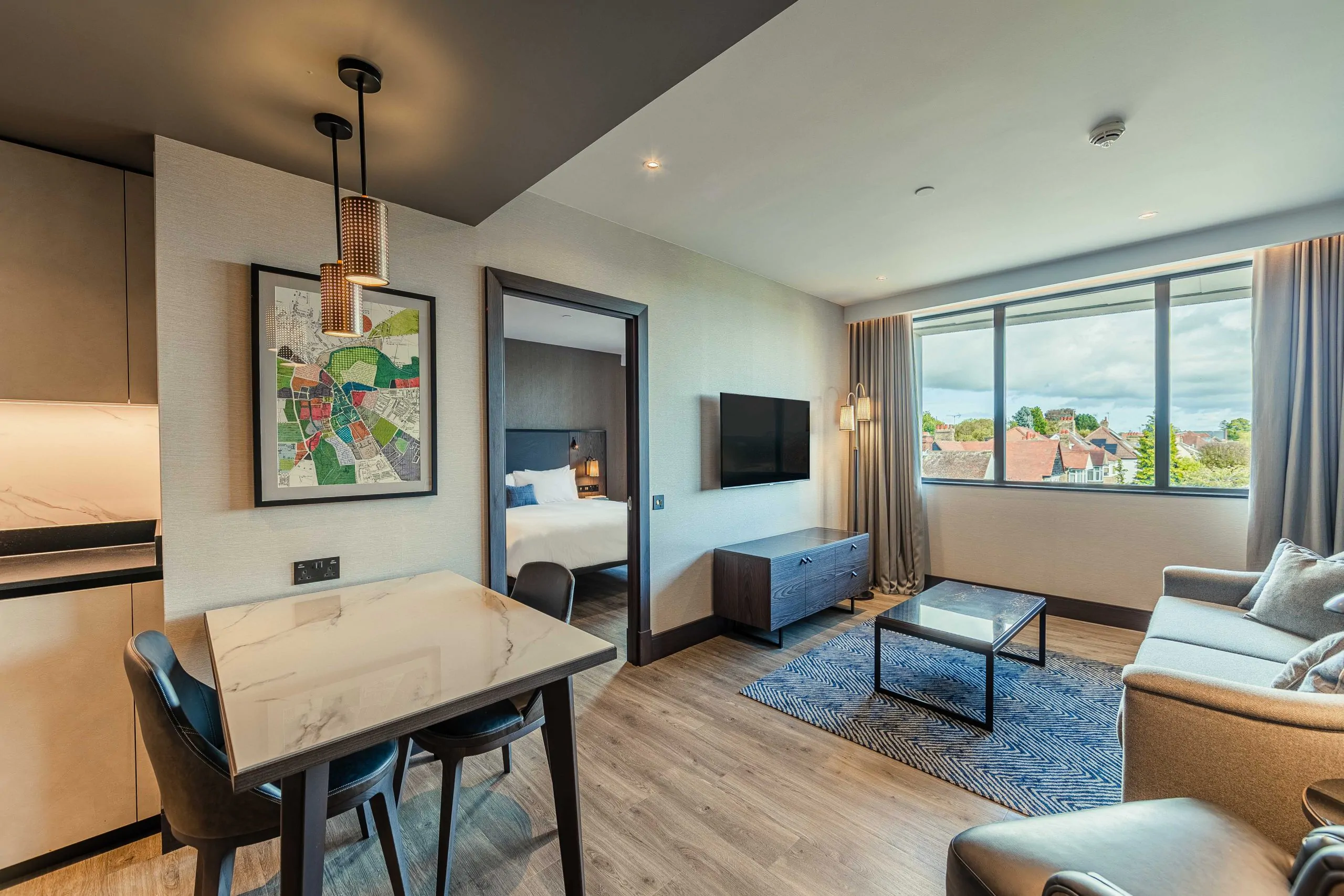 The renowned naturalist has achieved global recognition for his contributions to natural history and for making the public aware of the issues our planet is facing. This way through his documentaries and presence he began inspiring the public to drive environmental change. To add to the message, at The Fellows House, we offer on-site parking with EV charging stations. This way we strive to encourage cleaner travel by making it easier and more accessible for our guests in Cambridge.
On top of that, our hotel guests and visitors of our on-site restaurant The Folio Bar & Kitchen are welcome to indulge in signature cocktails, specifically crafted to pay homage to the renowned Cambridge University Fellows. One such cocktail is "Life on Earth", inspired by the globally recognised naturalist and nature documentary producer Sir David Attenborough. The signature cocktail creates a harmonious blend of flavours with strong Element 29 vodka, honey-infused vermouth and a hint of luscious banana syrup. Paying homage to nature, a meticulously hand-drawn bee adorns the drink. This captivating creation encapsulates the spirit of Attenborough's remarkable global explorations, offering both exotic flavours and stunning presentation.