With each of our menus designed to tantalise the tastebuds, The Fellows House is a dream destination for foodies everywhere.
Alongside our delicious food and drinks, the decor takes centre stage here; drawing inspiration from both history and modernity, you'll find the perfect fusion of old and new, alongside subtle nods to Cambridge's past, present, and future.
At The Fellows House, we champion local produce and transform it into creative dishes and inventive cocktails. Each space has a distinctive character, showcasing the very best of local Cambridge cuisine.
The Folio Kitchen is our light and airy culinary destination, where you can enjoy high-quality food at an affordable price tag. Rewriting the script of fine dining in Cambridge, The Folio features eating and drinking spaces which are both indulgent and relaxing.
With an inspiring menu that proves healthy eating doesn't need to be drab and staff who are dedicated to superb customer care, you'll find everything from delicious breakfasts to lavish lunches, and evening meals.
We've cultivated a relaxed atmosphere where there's always something new to try, and we're happy to accommodate your every dietary need or preference.
There are ample eco-friendly touches to choose from, including a vast selection of organic, plant-based, and biodynamic wines. We champion the concept of 'farm to fork', offering homespun cuisine in both our chic indoor dining area and outside in our covered courtyard, The Fellows Garden.
As with all other areas of The Fellows House, you'll find the surroundings every bit as inspiring, and wellness oriented as the menu. Here you'll discover design accents that celebrate Cambridge's heritage and the key figures who have contributed to the city.
In addition, The Folio Kitchen features ample parking and provides easy access to and from the city, making it the perfect place to start (or end) your day out in Cambridge.
The Folio Bar
We never stop aiming to raise the standard for our customers.
Our team has sourced the finest spirits and cocktail ingredients, ensuring that your time at the bar is made that extra bit more special.
Join us at the Folio Bar to meet, network and socialise- whether you are a guest at the hotel, or just a passing by visitor.
Relax and unwind
You can also enjoy a game of pool in these spacious, atmospherically lit surroundings, relax in a comfy chair, and sample from a unique menu of cocktails that likewise celebrate the history and culture of Cambridge. While our drinks are nothing if not indulgent, the ethical, wellness theme found throughout The Fellows House continues here, too.
We opt for local sourcing wherever possible and have a particular speciality in gin-based drinks, as well as an enticing menu of bar snacks perfect for anyone feeling peckish.
Our decor follows a cosy, welcoming theme and you'll love the artwork on display, carefully assembled by our interior designer Twenty2Degrees.
A warm welcome
Whether you're popping in for a quick bite to eat with one of our small plates or a plant-based cupcake, grabbing a cuppa with a friend, or enjoying an informal drink with colleagues after a busy day at work; at The Sage of Cambridge, you can always be sure of a warm welcome.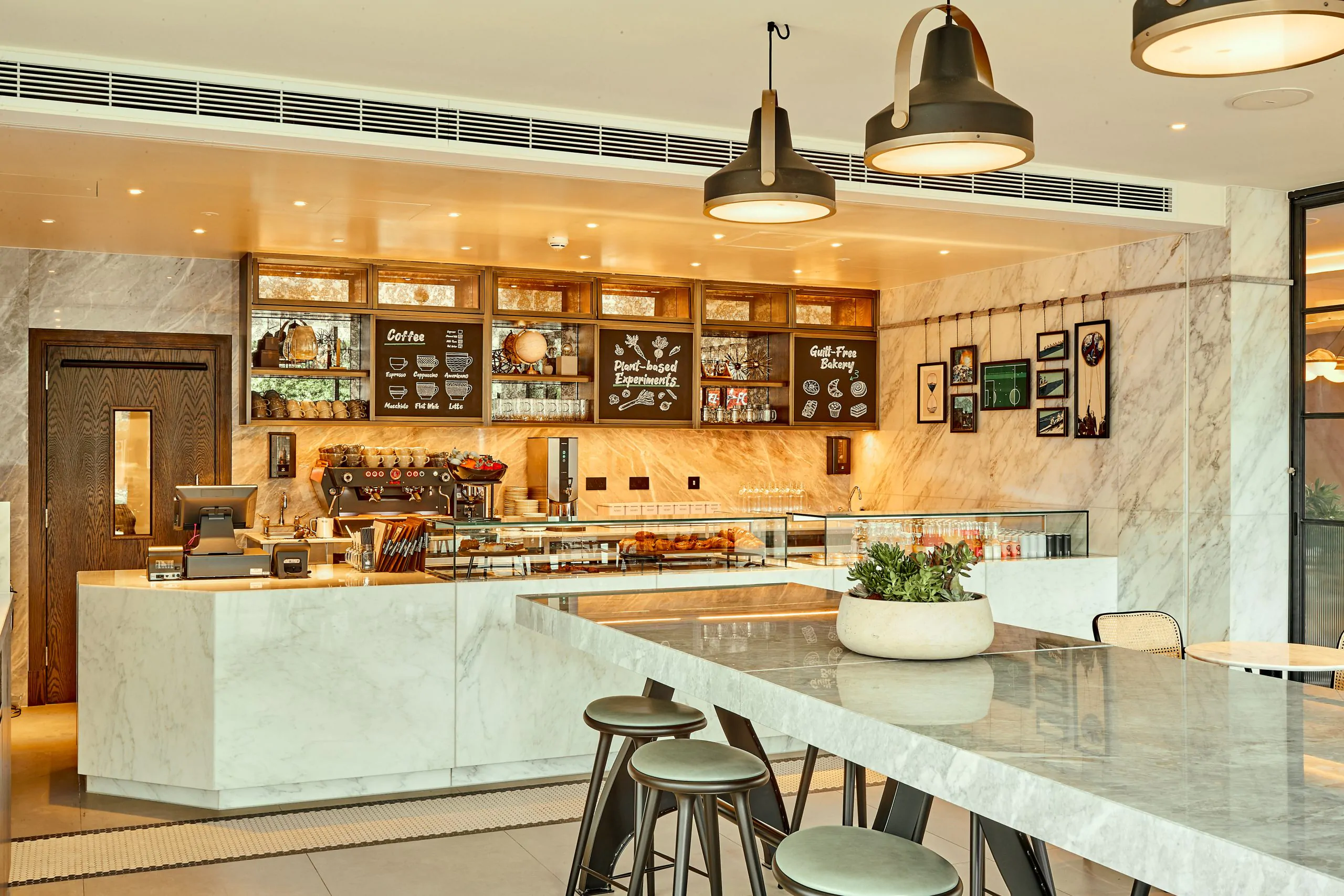 The Sage of Cambridge offers locally-sourced, healthy and sustainable food and drink. Our doors are open to guests and neighbours, looking for a relaxed and inspiring place to eat or drink in Cambridge.
We do this by delivering uplifting drinks, hearty dishes, and guilt-free indulgences throughout the day, before transforming into a vibrant wine and aperitifs bar in the evening.
A cafe with pastries and lunch by day, The Sage of Cambridge is a relaxed, dynamic space offering visitors and hotel guests alike a unique taste of Cambridge.
Join us for a barista-style coffee or enjoy a delicious breakfast, lunch, or light dinner while our attentive staff look after you.