Individual stays at The Fellows House
Whether you are here for a long stay in Cambridge or for a little while, The Fellows House is a welcoming haven tucked away in one of the UK's most vibrant cities. Celebrating the heritage and history of Cambridge, our accommodation prioritises both comfort and luxurious style to provide a deluxe visit, any time of year. Our flexible approach to apartment-style living is perfect for everyone from solo or business travellers, couples or families. Our stay in Cambridge accommodates everyone, whether they are looking for mid-week stay or a weekend getaway.
Our Cambridge hotel rooms are deeply inspired by the historic city and its famous Cambridge fellows. The Fellows House being located just a walking distance away from the cobbled streets of Cambridge city centre, makes it easy to explore popular attractions such as the historic Regent Street, University of Cambridge, King's College Chapel and enjoy the stunning central location views by the river Cam.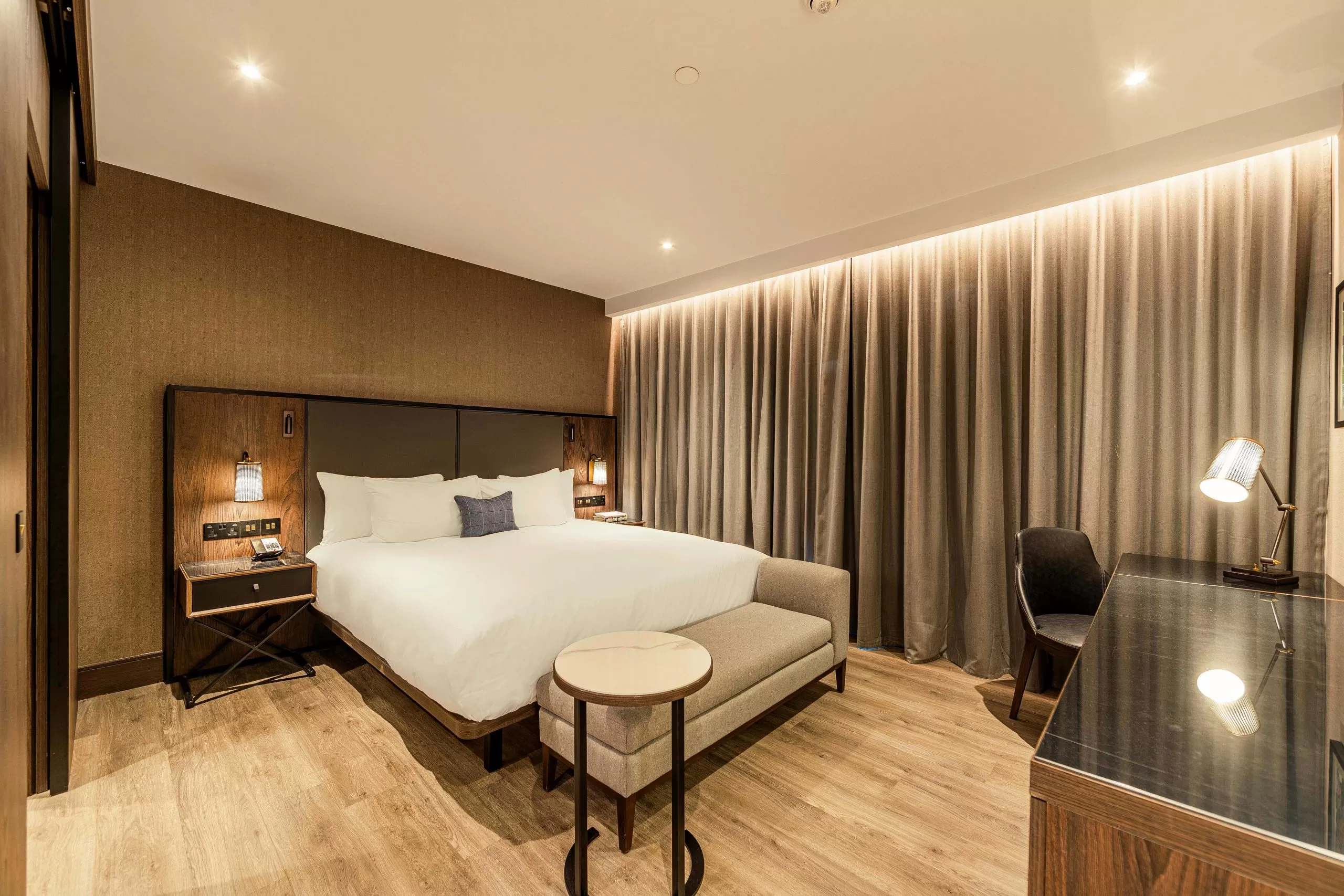 During your visit, you'll have the opportunity to lounge by our indoor pool, enjoy our sauna and steam room, work up a sweat at the gym, experience fine dining in one of our three eateries.
We ensure luxury and comfort during your memorable stays in Cambridge. Therefore we provide our guests with many facilities within the hotel. You will have the chance to experience fine dining and indulge in artisan cocktails at our Folio Bar & Kitchen. On your way to explore central Cambridge you have the chance to grab a fresh perfectly brewed coffee and healthy treats from The Sage of Cambridge cafe. All these amenities are easy to reach without even leaving our Cambridge hotel – The Fellows House.
Our guests are even able to take advantage of our on-site bicycle hire, which allows them to explore Cambridge City in the local style. The Fellows House is one of the rare hotels with a central Cambridge location that provides stress-free parking.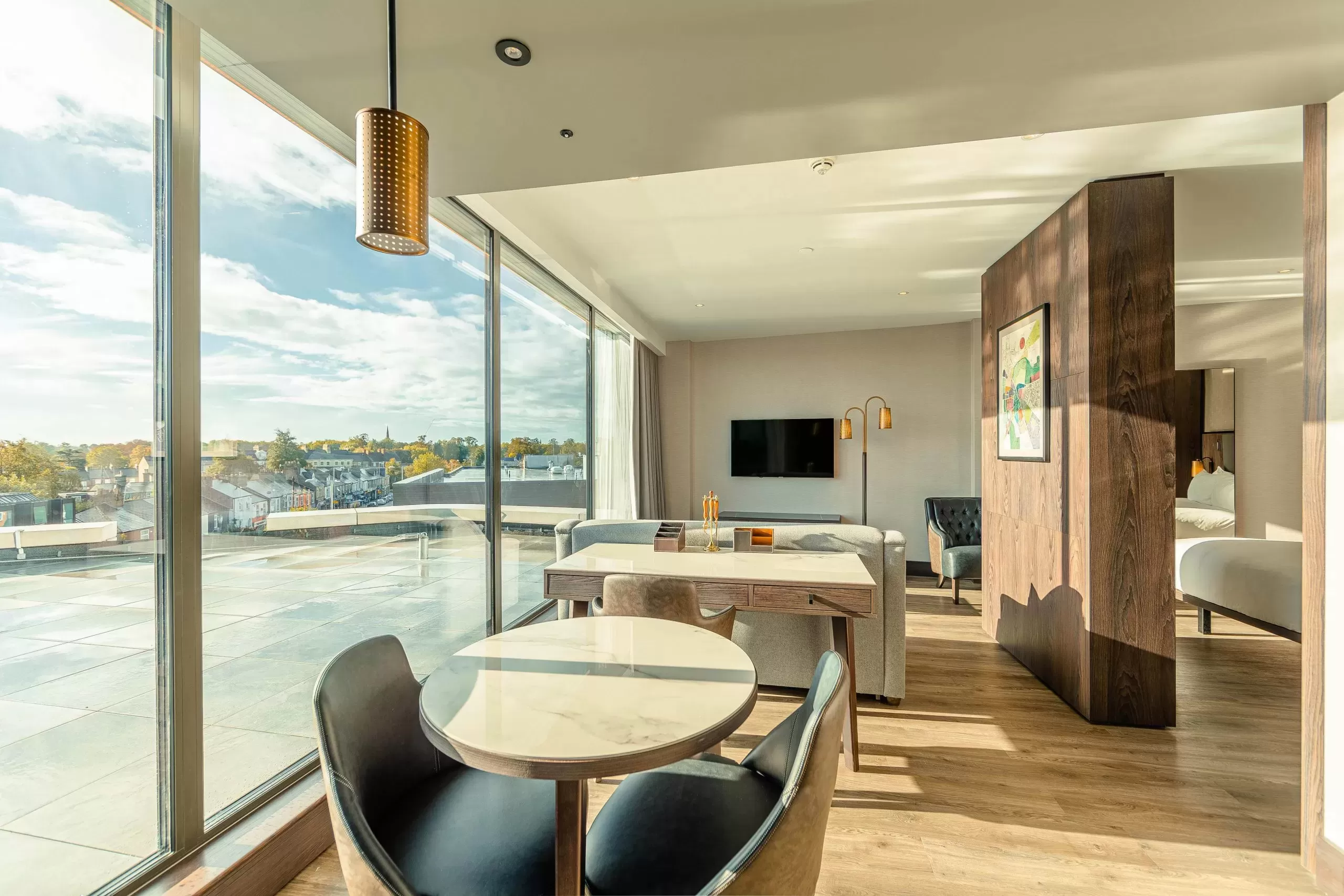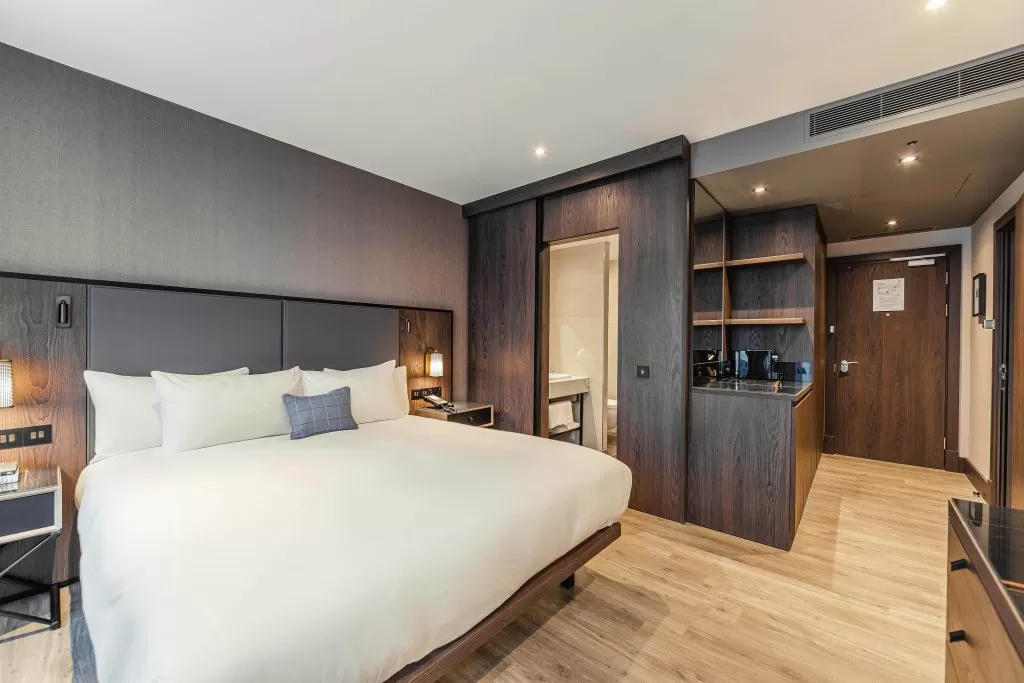 Our Kipling Room is inspired by the life and work of one of Cambridge University's most famous Fellows; author and journalist Rudyard Kipling (1865-1936).
Perhaps best known as the writer of children's classic The Jungle Book, Kipling also penned many poems and novels during his lifetime, solidifying himself as one of the city's most famous sons and a prominent public figure in the earlier half of the 20th century.
This tastefully decorated accommodation features a spacious bathroom and plush, comfortable King size bed and soft bedding, as well as complementary books by your bedside and contemporary, style-led furnishings throughout.
Our Blake Apartment takes its inspiration from illustrator, cartoonist, and children's author Quentin Blake (b. 1932). A significant figure in 20th century literature and a celebrated Cambridge Fellow, Blake has contributed illustrations to more than 300 books including many of Roald Dahl's most famous works.
The apartment itself is similarly led by design, with separate living and sleeping areas and a sleek kitchen area and bathroom (complete with bath). Many of our Blake Apartments also offer a sofa bed for more flexible living.
Spacious enough for you to feel at home and cosy enough to relax in, the Blake Apartment is a fitting tribute to its namesake and your ideal base while staying in Cambridge.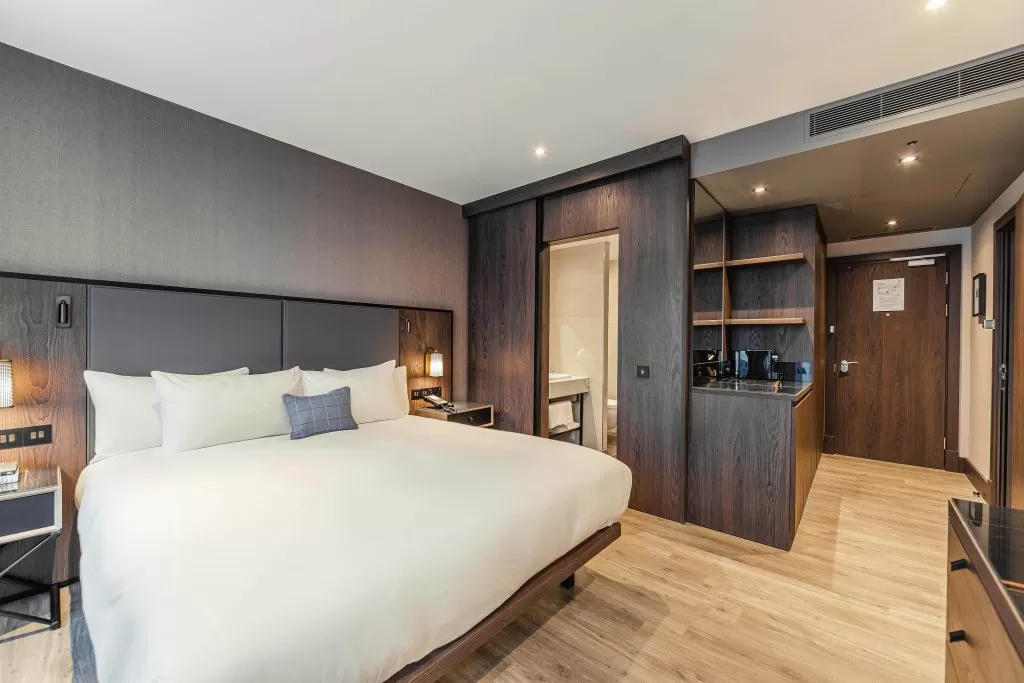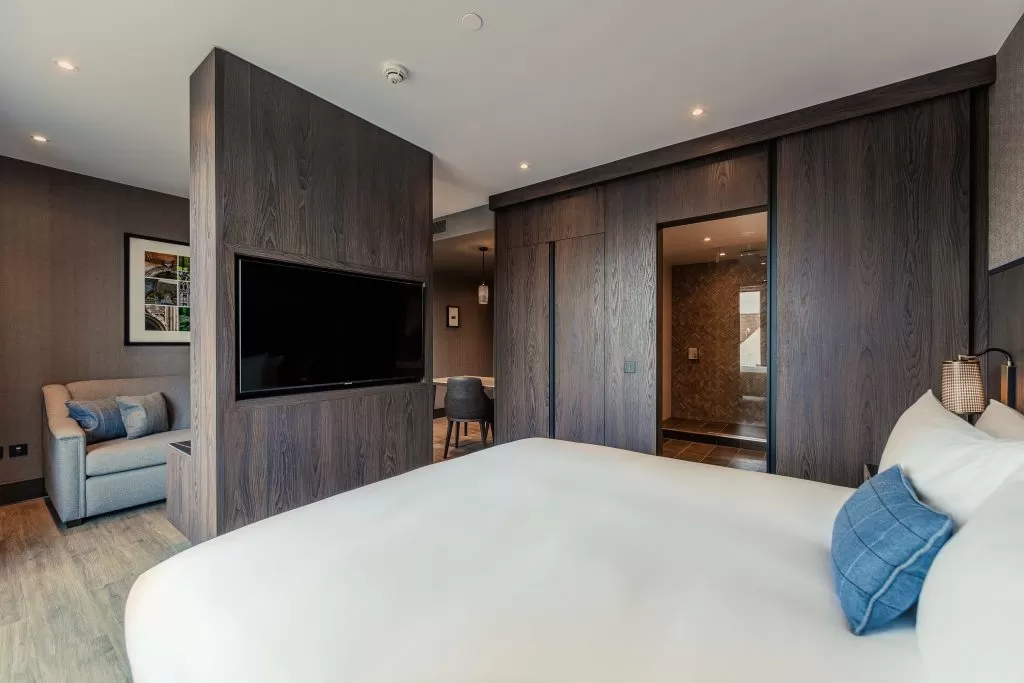 The Turing Superior Studio
Inspired by Cambridge Fellow Alan Turing (1912-1954), a hugely influential figure noted for cracking the Enigma code and pioneering modern computing, the Turing Superior Studio more than lives up to its name.
Here you'll find spacious, contemporary accommodation which goes the extra mile to provide a homely feel. Key features include a kitchen area (complete with recipe book), bedside books for indulging your bookworm side, in-room tech and a bathroom stocked with grooming products to help you recharge.
The Turing Superior Studio also includes separate living and sleeping spaces, so you can really settle in and will quickly feel right at home.
The Newton Superior Studio
The Newton Superior Studio provides the ideal blend of high-end features and homely comforts.
Inspired by the famed physicist Isaac Newton (1642-1726), most widely known as the discoverer of gravity, this studio gives you plenty of room to relax and unwind while staying in unique accommodation celebrating the life and times of a Cambridge Fellow.
Key features include a sofa bed for added space, in-room tech, bedside books, and a well-equipped kitchen area. Here you'll find a recipe book for rustling up some culinary treats during your visit.
The roomy bathroom also includes a selection of free grooming products to help you get settled in.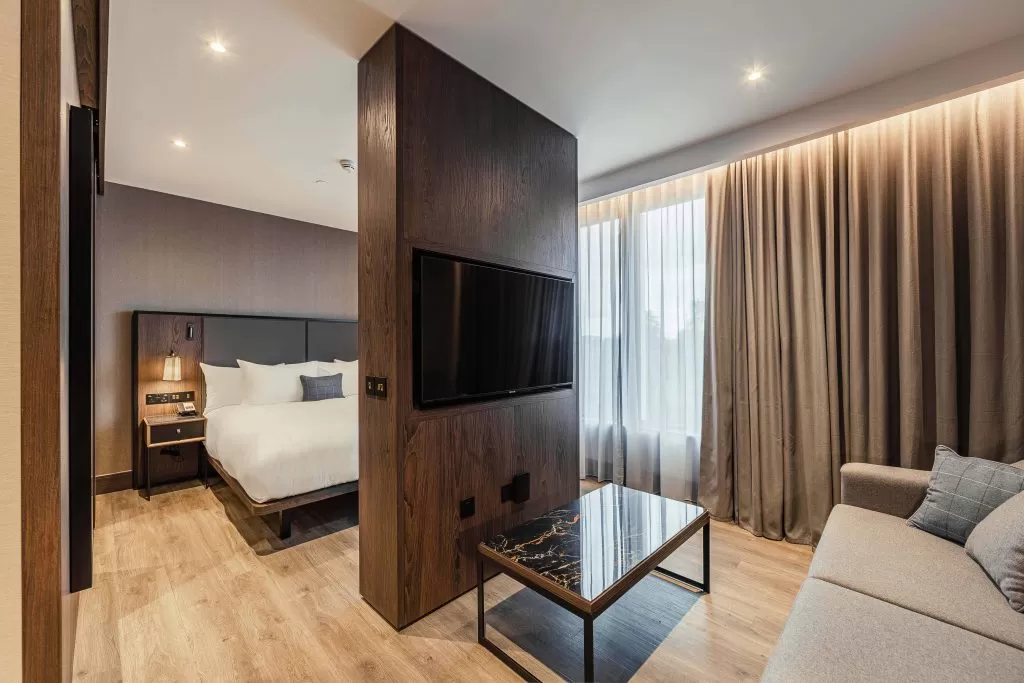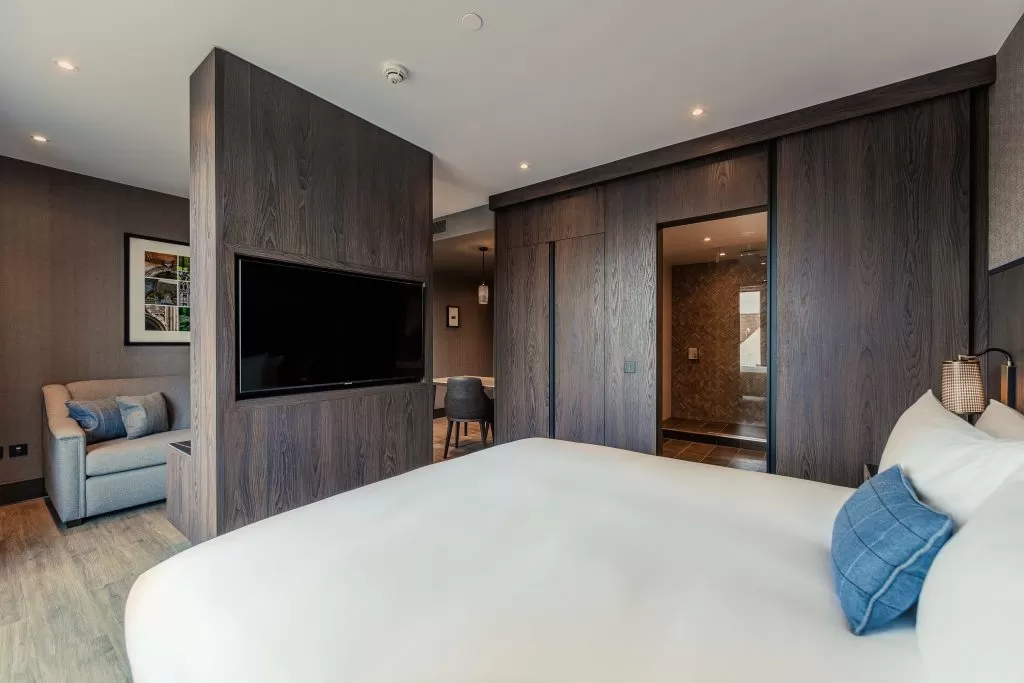 The spacious, design-conscious Darwin King Studio is inspired by Charles Darwin (1809-1882), a noted naturalist who is best remembered for his ground-breaking theory of evolution.
There are references to Darwin throughout The Fellows House, thanks to his role as one of the preeminent Cambridge Fellows.
This namesake studio offers comfortable, stylish accommodation suited to any length of stay, with in-room tech, a kitchenette ideal for busy travellers, and plenty of room to settle in and unwind.
You'll find all the facilities you'd expect from a high-end hotel, alongside added extras such as a selection of bedside books and a recipe book for when culinary inspiration strikes.
The Fellows Duplex Apartment
The Fellows Duplex offers deluxe two-story, split-level apartment accommodation, ideal for those who like to really make themselves at home.
Each duplex is named after a Cambridge University Fellow, with design accents throughout every space providing respectful references to their lives and work.
These high-end duplexes also feature items that may have been found in the office of a Cambridge Fellow, helping to add extra charm and uniqueness to the space. Duplexes at The Fellows House champion artistic expression and great design, alongside all the modern features guests would expect.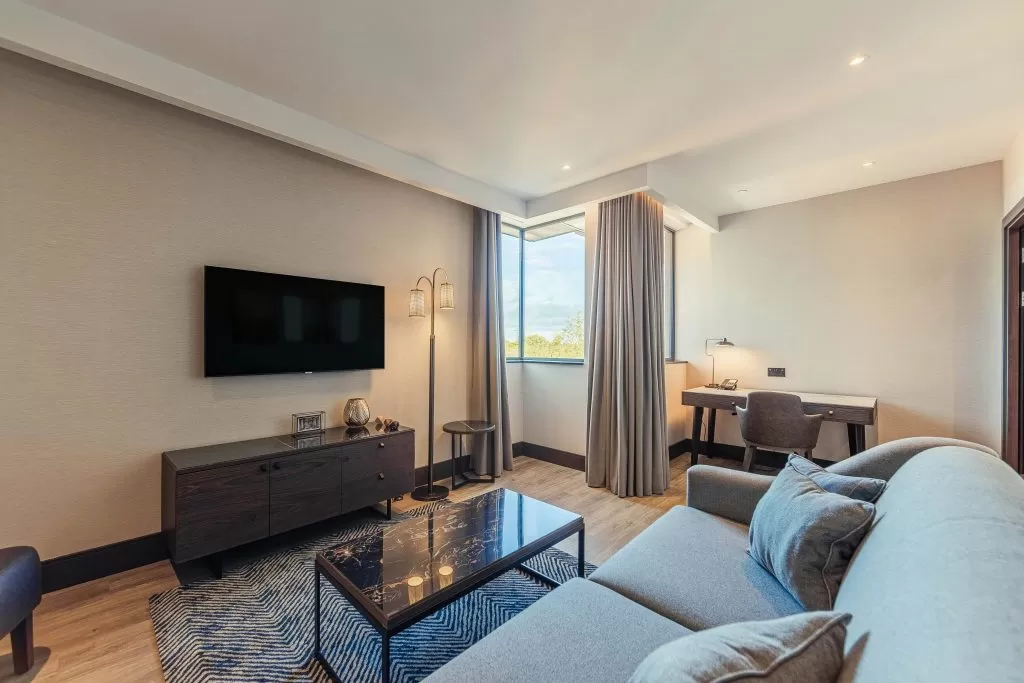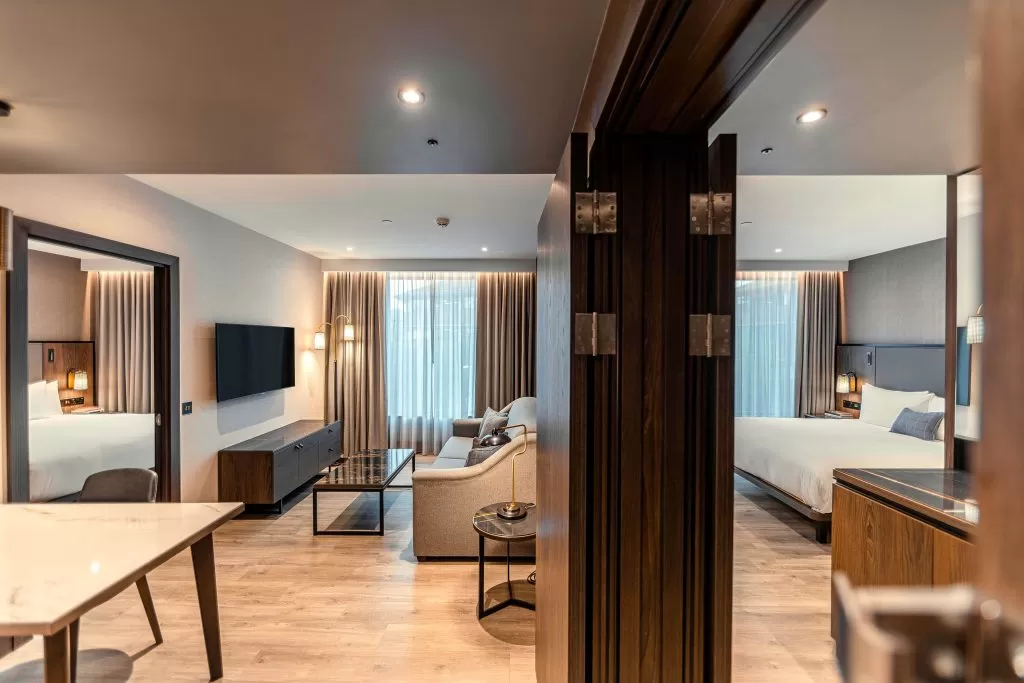 The Fellows Family Connecting Apartment
Our family connecting apartments offer the ideal blend of interconnected and independent accommodation. Perfect for families seeking a relaxing getaway, you'll find everything you need to enhance your stay. Each of our connecting apartments are named after a Cambridge University Fellow.
Rooms include comfy bedding and neutral décor, spacious bathrooms, and flexible seating. You'll also find a smart, functional kitchen space complete with a recipe book (perfect for those seeking some culinary inspiration at mealtimes).
With space to truly unwind as a family, our connecting apartments represent a unique opportunity to get away from it all while enjoying the best Cambridge has to offer.
The Gormley Apartment features a comfy bed, a superb selection of bedside books, and spacious separate living and sleeping areas, helping you feel right at home.
Inspired by Cambridge Fellow and noted British sculptor Antony Gormley (b. 1950), most famous for his 'Angel of the North' artwork, this apartment also features a well-equipped kitchen area and a recipe book to help inspire your artistic culinary adventures.
You'll also find a selection of beauty and grooming products in your bathroom, to help welcome you to your stylish apartment-style accommodation.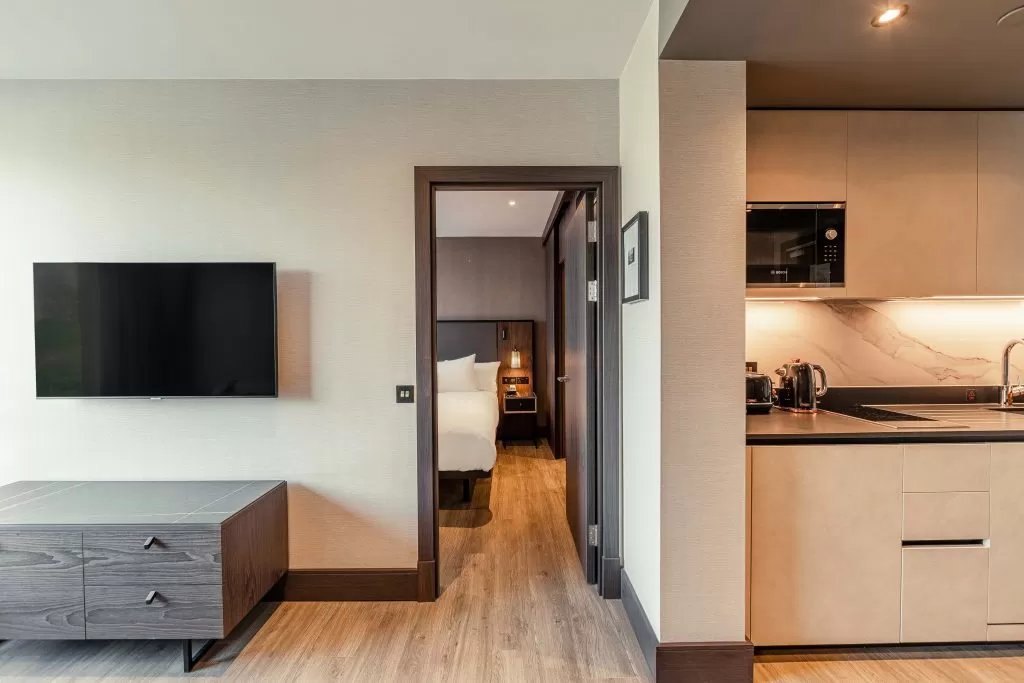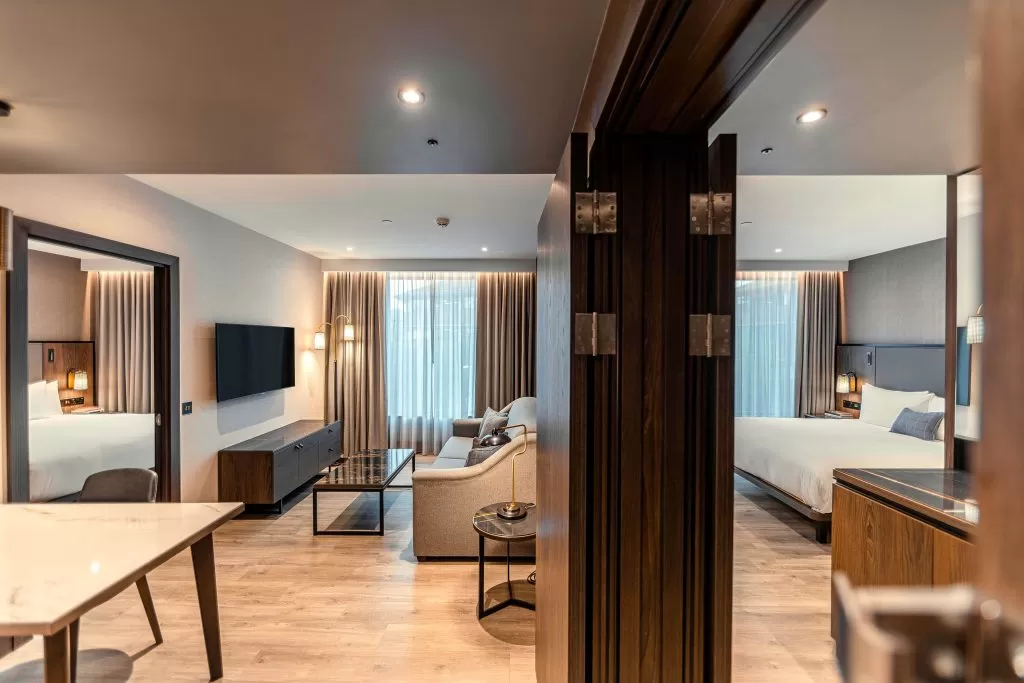 The Attenborough Apartment
Inspired by one of the most prominent Cambridge Fellows, The Attenborough Apartment offers a unique combination of home comforts and deluxe, apartment-style accommodation.
David Attenborough (born 1926) has achieved global recognition for his contributions to natural history, inspiring the public to drive environmental change.
The apartment that bears his name features spacious separate living and sleeping areas. You'll also find a comfortable sofa bed for greater accommodation flexibility.
As with all our apartments, The Attenborough includes a well-equipped kitchen (complete with a recipe book, should culinary inspiration strike). Other key features include a spacious bathroom, in-room tech, and sleek modern furnishings that never sacrifice a crucial feeling of cosiness.
The Adkins Superior Studio
This is studio accommodation at its finest, with a wall separating the bedroom and living areas. The Adkins is a well-appointed room where you can truly immerse yourself in a relaxing stay, before venturing out to explore the city of Cambridge.
The room name is inspired by Cambridge Fellow Dr John Adkins (1934-2020). Adkins was an expert in physics, noted as a keen music enthusiast, and a vocal proponent of encouraging women to study at the university.
The Adkins Studio has the chic modern furnishings you'd expect from The Fellows House, including a spacious kitchen area that features a recipe book for inspired in-room dining.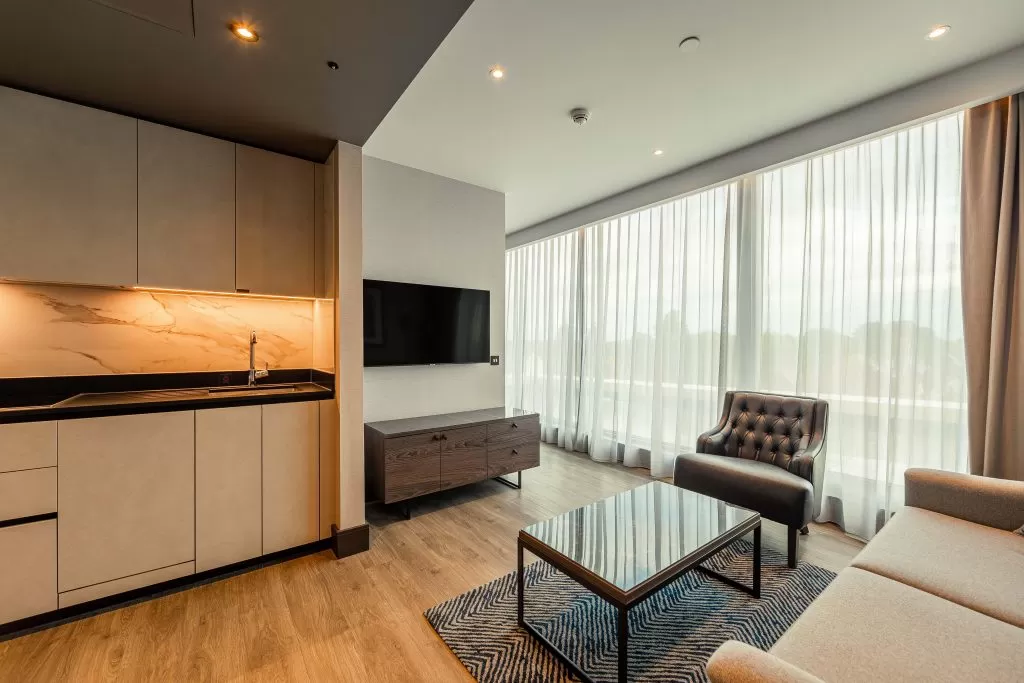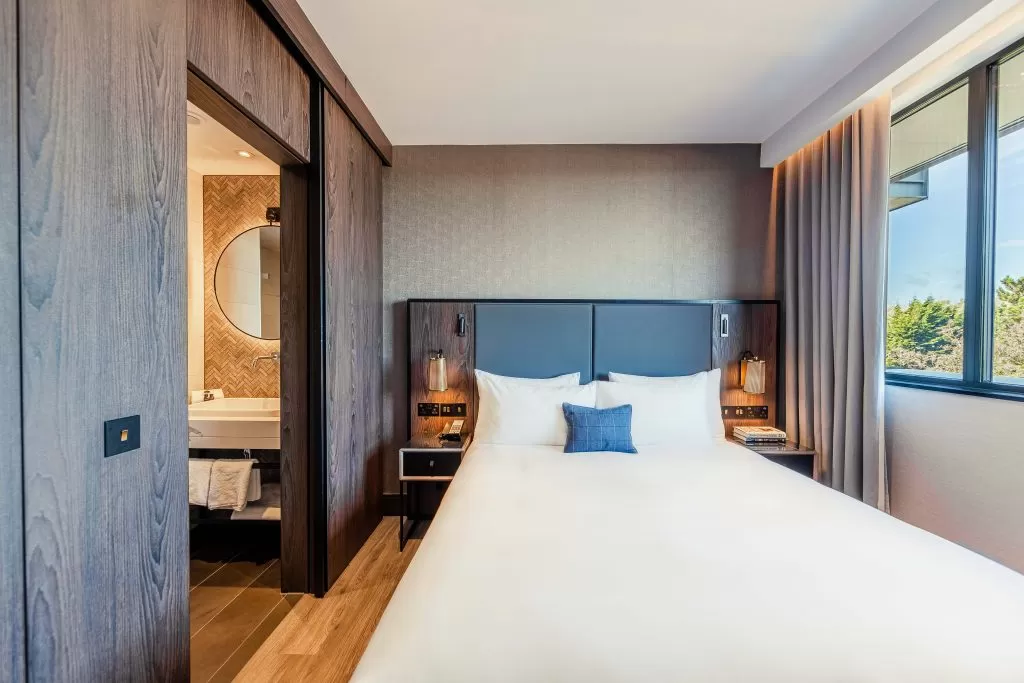 The Barton Apartment takes its name from noted Shakespeare scholar Anne Barton (1969-2013), a Cambridge Fellow who made a significant mark unearthing the subtexts and nuances in Shakespeare's writing.
This spacious apartment features a Queen-sized bed and modern furnishings throughout. Guests benefit from their own kitchen (complete with a recipe book to help inspire in-room dining), making this a fantastic option for long-stay visits to Cambridge.
As with all our apartments, you'll find separate living and sleeping areas which provide an upscale feel and room for all your creature comforts. The bathroom also comes equipped with complementary beauty and grooming products to help you settle in.
The Hicks Accessible Studio
This fully accessible studio combines high-end design features with practical finishing touches, which help create the ideal stay in the city.
The studio is inspired by Cambridge Fellow John Hicks (1904-1989), a famed British economist who is also noted for his prolific writing and his prominent role in the development of British economic thought. As with all our accommodation, the Hicks Accessible Studio represents a new approach to high-end apartment-style living.
Fans of fine dining can try their hand at some of the recipes in your complimentary recipe book, which you'll find waiting for you in the spacious kitchenette.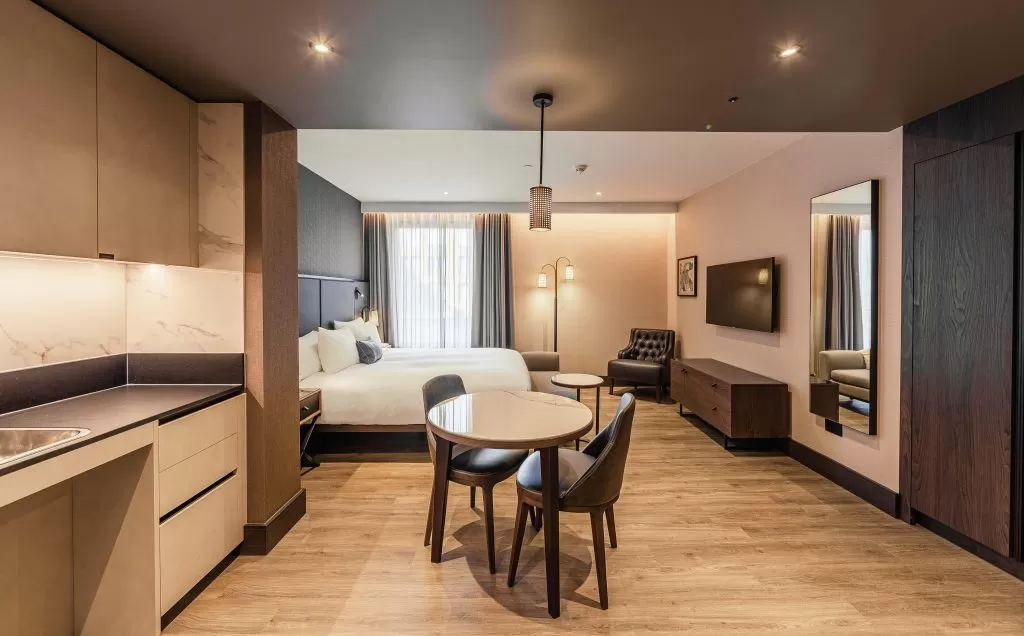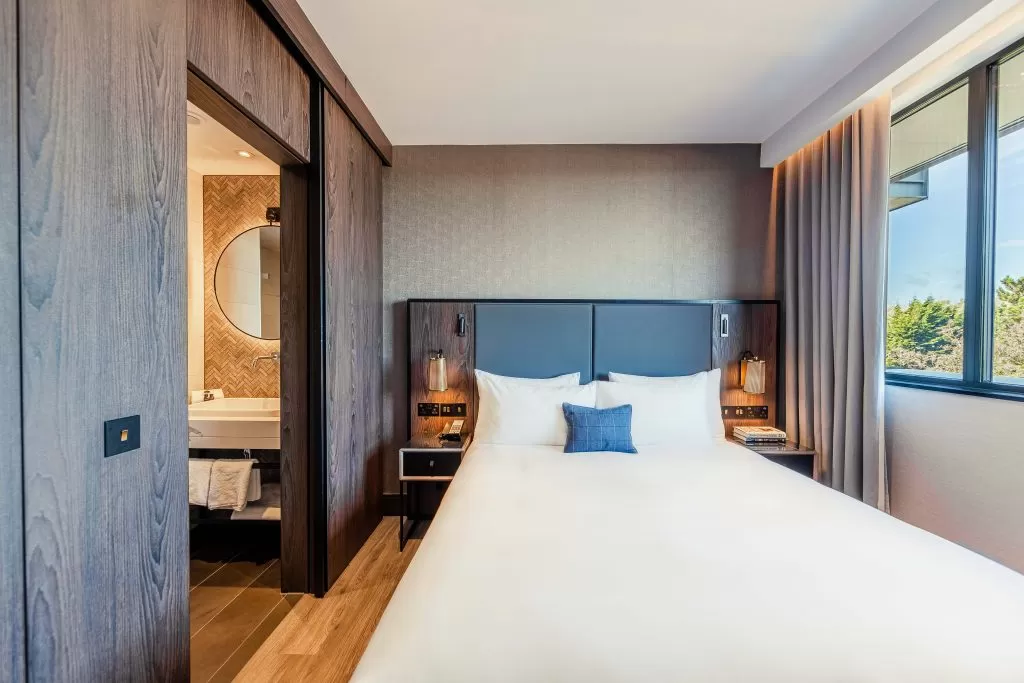 This fully accessible studio combines high-end design features with practical finishing touches, which help create the ideal stay in the city. Alongside sleek modern fixtures and fittings in restful neutral tones, you'll also be treated to a selection of books by your bedside to encourage a moment of calm after a busy day exploring Cambridge.