Relocating To Cambridge
Cambridge is a famous university city and county town of Cambridgeshire. Relocating to this vibrant city is an exciting prospect that offers a wealth of opportunities and a unique lifestyle. Known for its prestigious university, rich history, and thriving cultural scene, Cambridge attracts individuals from all walks of life. The city's charm is evident in its narrow streets, stunning architecture, and tranquil green spaces, creating a perfect blend of tradition and modernity. As a hub of academic excellence, Cambridge offers numerous educational and research institutions, fostering a truly dynamic intellectual atmosphere. Beyond academia, the city boasts a thriving economy, with a diverse range of industries including technology and finance, providing a wide variety of career opportunities.
So whether you are relocating to Cambridge to pursue higher education, job opportunities or simply to enjoy the city's heritage and culture, The Fellows House Hotel will help you make your relocation process into the city seamless and pleasant.
Ideal location to discover the charm of Cambridge
Embarking on a relocation journey to Cambridge can be daunting, but at The Fellows House Hotel, we strive to ease the transition and make you feel right at home during this exciting chapter. Our long-stay self-catered apartments are designed to provide a comfortable and homely atmosphere, ensuring that every aspect of your relocation is taken care of. From the indulgence of 300 thread count sheets to the convenience of a fully equipped kitchen with recipe books and utensils, we offer all the essentials to make your stay pleasant. Moreover, our on-site parking ensures hassle-free transportation as you settle into your new surroundings, with features like EV charging points and Blue Badge parking spots available.
Situated just a short walk from the Cambridge city centre, The Fellows House allows you to effortlessly immerse yourself in Cambridge's rich history and culture. Amidst the relocation process, you will find a multitude of green spaces to explore, whether it's the scenic paths near the River Cam or the enchanting Cambridge University Botanic Garden. The city's narrow streets and captivating architecture provide endless opportunities for discovery. With The Fellows House Hotel as your base, you'll have the perfect sanctuary to retreat to after a day of exploration, ensuring a smooth and comfortable relocation experience in the vibrant city of Cambridge.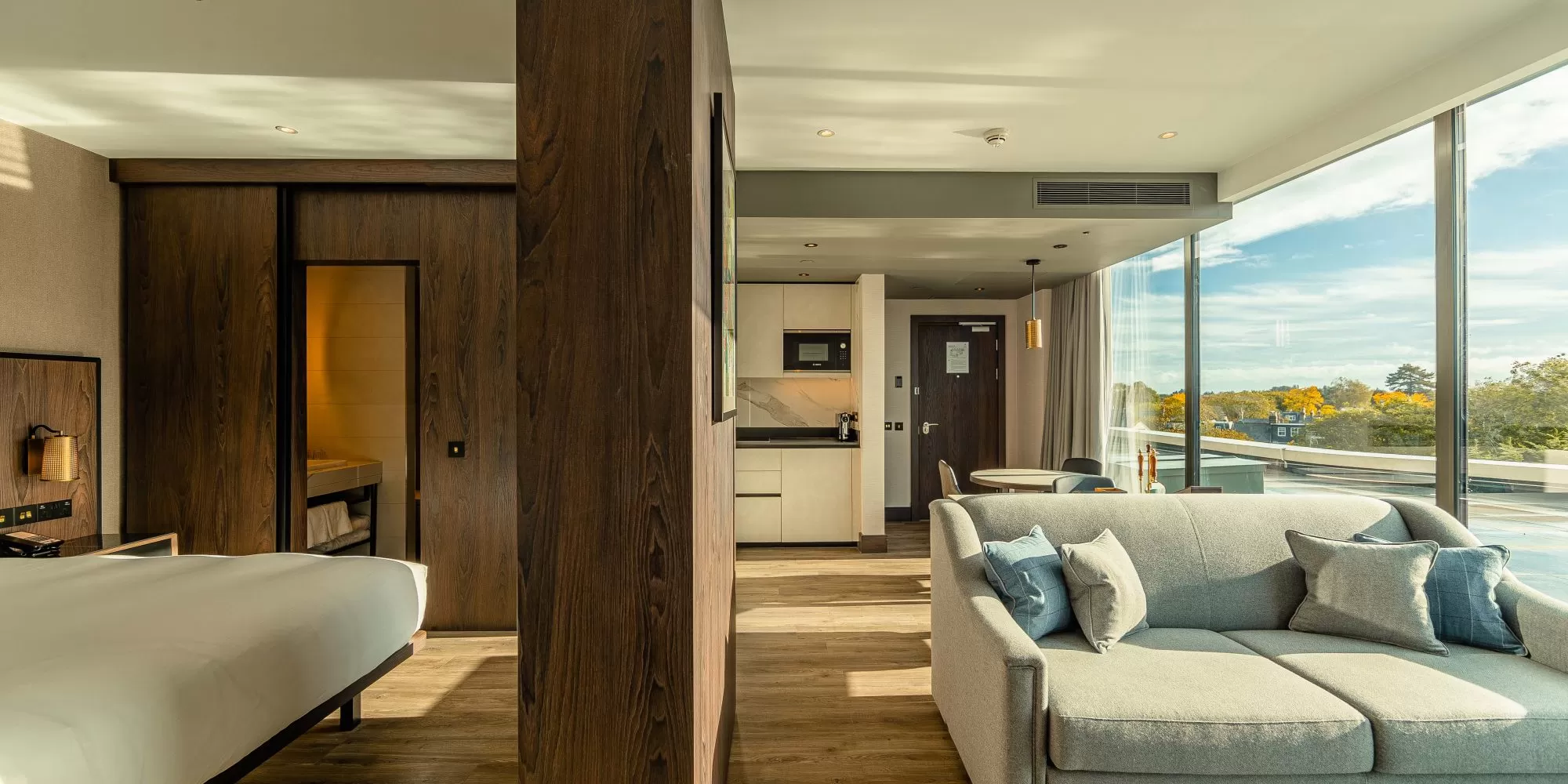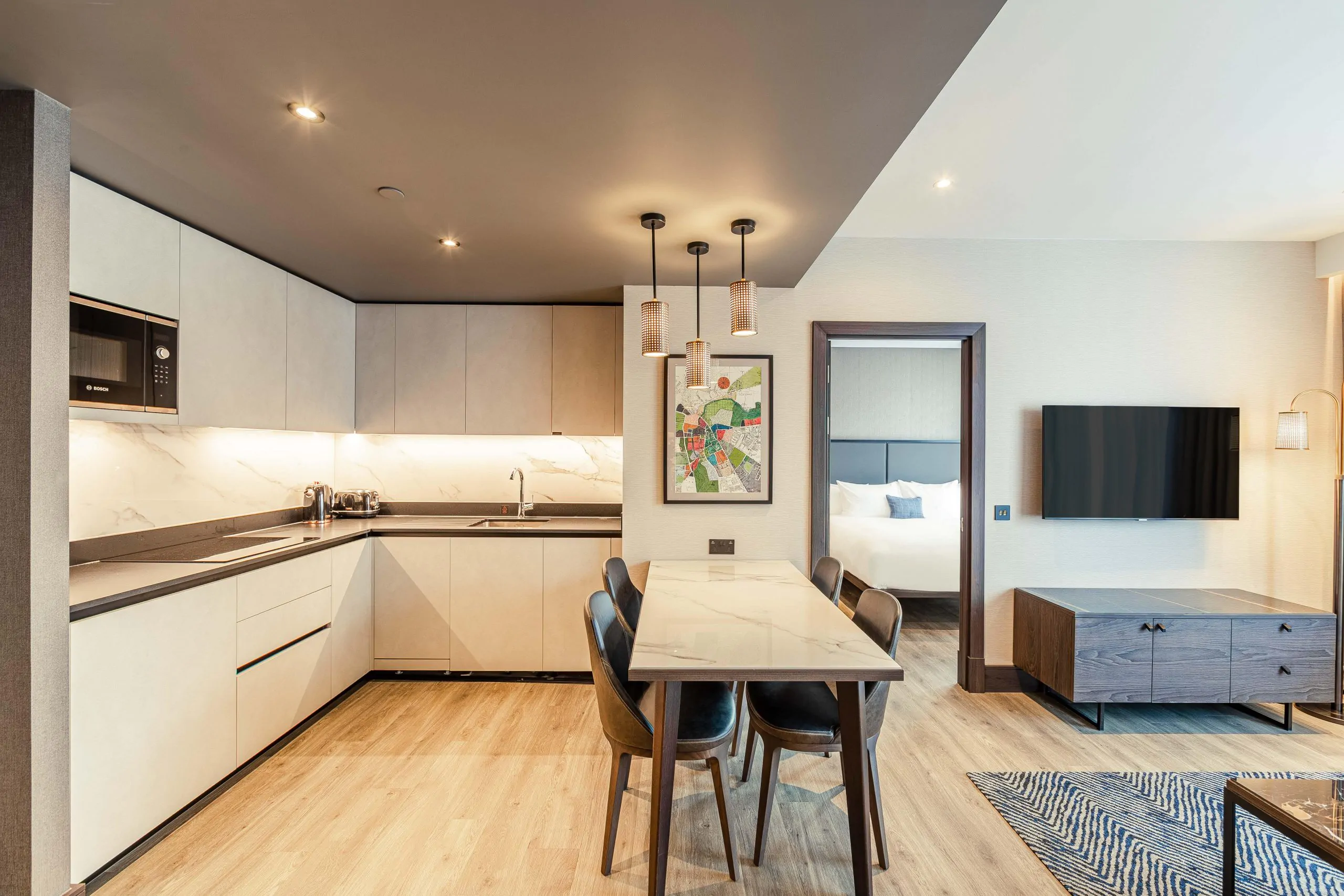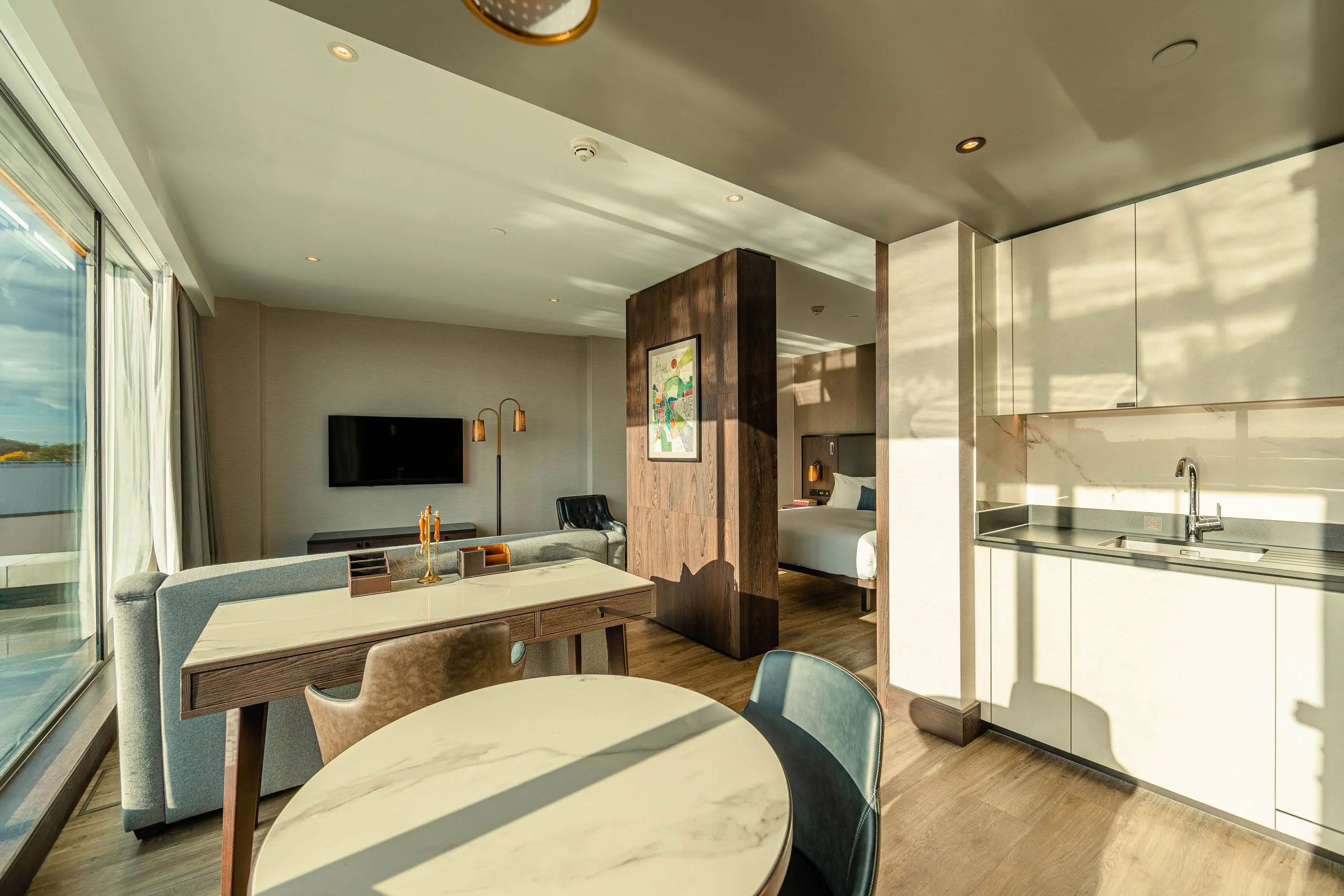 Apartment-style living in Cambridge
Experience the epitome of apartment-style living in the heart of Cambridge at The Fellows House Hotel. Our thoughtfully designed apartments exude the academic heritage of the university city while offering contemporary interiors and luxurious amenities. From the meticulously chosen neutral and calm colour schemes to the adjustable thermostat, every detail has been carefully considered to provide a comfortable and relaxing stay when moving to Cambridge. Our one and two-bedroom apartments, along with the Fellows Duplex apartments spanning two levels, offer spaciousness and privacy for our guests. Each apartment features a fully equipped kitchen with high-quality appliances, utensils, crockery, and plates, allowing guests to feel right at home and effortlessly prepare their own meals, whether it's breakfast, lunch, or dinner. For those who prefer to savour culinary delights without cooking, our on-site restaurant, The Folio Bar & Kitchen, serves incredible creations that put a unique twist on beloved British cuisine classics. Our skilled and creative chefs will surprise you with their culinary expertise.
Additionally, room service is available for guests who wish to indulge in the amazing dishes crafted by our chefs within the comfort of their own space. To satisfy your caffeine cravings, our in-house café, Sage of Cambridge, offers high-quality coffees, accompanied by a range of healthy, gluten-free, and vegan pastry options. With our diverse culinary offerings, we ensure that everyone will find something they love at one of our eateries, making your stay at The Fellows House Hotel a truly exceptional experience.
Relax in our wellness space
To help guests unwind during their relocation to the city, we always encourage them to use our wellness area, which is tucked away from the bustling hotel spaces, to create a truly tranquil and serene oasis for our guests to relax in. Take a refreshing dip in our indoor pool or break a sweat in our rejuvenating sauna or steam room. For those seeking moments of peace and inner calm, our plush poolside chairs offer the perfect spot to unwind. Whether you lose yourself in the pages of a captivating book or use the time for reflection and journaling, our wellness area provides an idyllic sanctuary to gather your thoughts and recharge your spirit.
At The Fellows House, we believe in promoting an active lifestyle, even during the relocation process. For those looking to make the most of their free time, our 24/7 fully equipped fitness studio is at your disposal. We recognise the significance of physical health in achieving inner peace and overall well-being. With our state-of-the-art facilities, guests can maintain their fitness goals and routines, ensuring a seamless transition to their new environment. Whether it's a quick cardio session, strength training, or a relaxing yoga practice, our fitness studio provides the perfect space to prioritise your physical well-being and find balance amidst the relocation progress.
Unique academic atmosphere
Experience more than just long-term apartment stays at The Fellows House Hotel in Cambridge. Our meticulously curated rooms and apartments embody a perfect fusion of contemporary luxury and the captivating historic charm inspired by the city's esteemed academia. Each space has been thoughtfully designed to honour the legacy of the renowned university's fellows, evident through the incorporation of their names and captivating artworks that hold deep significance. Immerse yourself in a world where heritage meets modernity as you explore our rooms adorned with unique and meaningful art, evoking a sense of connection to the academic legacy of Cambridge.
Step into the distinctive ambience of our specially crafted rooms at The Fellows House Hotel in Cambridge. The Turing Superior Studio is a fitting homage to the brilliant Alan Turing, renowned for his unrivalled intellect in cracking the Enigma code and pioneering modern computing. The studio effortlessly lives up to its name, exuding an atmosphere of sophistication and innovation. For admirers of scientific brilliance, we present The Newton Superior Studio, paying homage to the illustrious physicist Isaac Newton (1642-1726), whose groundbreaking discoveries revolutionised our understanding of gravity. Immerse yourself in a haven of elegance and intellectual curiosity. Additionally, our spacious Darwin King Studio offers a perfect blend of comfort and style, ideal for an extended stay. Our selection of apartments extends beyond these remarkable examples, with each one thoughtfully designed to provide you with the utmost comfort and luxurious indulgence during your long-term stay or relocation to Cambridge.
Experience true comfort and luxury
Nestled in the heart of Cambridge, where history and modernity combine, The Fellows House awaits to envelop you in a world of opulence and refined sophistication. With on-site parking, a tranquil wellness area, a beautiful indoor pool, and incredible on-site eateries, The Fellows House will provide you with everything you may need during your stay in Cambridge. Immerse yourself in true luxury and comfort at The Fellows House, book a room today.